Spring Water and Hot Shower
At Hunza Eagle's Nest Hotel, we ensure the availability of fresh and clear spring water. The hotel has it's own water tanks from where fresh spring water is circulated after basic processing. Spring water is available in all rooms of the hotel. We also have hot water facility 27 X 7. We use both wood and electric geysers to ensure continuous hot water supply.
Room with Cable and TV facilities
We have 21 SONY Panasonic Televisions in all our rooms. You can get access to about 100 channels from the local Cable Network Sujo Hunzo run by Dewako Productions. The channels includes major International News Channels, Major Sports Channels, National Geographic, Discovery, Prominent News Channels of Pakistan, Entertainment, Movies, Music, Disney Channel, Cartoon Network, a local channel much more. You can also order for a DVD-CD player on demand. For ordering a DVD-CD player, contact the front office. An extra amount will be charged for this service depending on it's availability.
For checking your Emails and surfing the internet, we have the facility of Broadband Internet. We are working on a Wi-fi, Hotspot and very soon internet facility will be available in all rooms. For availing the internet facility, you can contact the front office. Standard charges apply for this service.
A lush green garden is attached to the hotel's main block. The fruit garden has cherries, walnuts, apricots, mulberries etc. In summers, we provide fresh fruits from our own gardens.
Local Traditional Musical Programs
The Hunza valley has a very colorful tradition. One of the main elements of the Hunza Culture is its music. Eagle's Nest Hotel, Hunza arranges musical shows depending on the guests'.
Two small shops are attached with the hotel where you can buy postcards and souvenirs like gemstones, Hunza embroidery, Hunza caps and the famous Hunza dry fruit; apricot, mulberries and walnuts.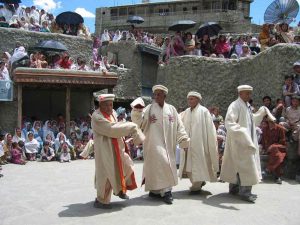 The restaurant is a nice meeting place to have a cup of local mountain tea Tummuro. It offers a broad choice of local Pakistani and western dishes. All meals are prepared with fresh local ingredients. The water used to prepare our food and tea is spring water and is safe to drink. One of the local specialties on the menu is the cheese and walnut chapattis with the typical flavor of apricot oil. As from the rooms, the view from the restaurant is spectacular.
The Hotel has an open terrace from where you can have a spectacular view of the whole Hunza valley and surrounding peaks like Rakaposhi, Diran Peak, Golden Peak, Ultar Peak and Lady Finger etc. This place is best for having a cup of tea in the evening or even a moon light dinner.
Traditional Hunza House
A traditional Hunza house welcomes the guests at the entrance of our Hotel's Lobby. This house is one main feature of the Hunza Eagle's Nest Hotel. This house reflects the local design of traditional houses.
Car Parking
The Hotel has it's own parking lot for about 50 vehicles. The main parking is attached to the main block of the hotel while parking for larger vehicles is situated at a minute foot walk distance from the Hotel's entrance.